How do I cancel my subscription?
When you join a SOFLETE Team, you are signing up for a month-to-month subscription, with no commitment. By default, your subscription is set to recur every month until you cancel your membership. You may cancel your membership at any time, and you will continue to receive access to the programming for 30 days after your last successful payment. Subscriptions are non-refundable if cancelation or request for cancelation is after the charge has processed.
Please note that subscriptions started with 10 day free trials will be automatically charged after the trial period. Subscriptions must be canceled prior to the end of the trial period or the first monthly charge to not be processed. Refunds are not available for purchases of digital products (subscriptions).
Cancelling your account must be done on your computer - not your phone. Login at https://soflete.com/account. Please note your Soflete account (soflete.com) is different than your training account (train.soflete.com). If you do not already have a Soflete account, please contact help@soflete.com for assistance. Go to "Manage Subscriptions" and "Cancel".  If you have any problems, please email help@soflete.com and we will cancel your account for you.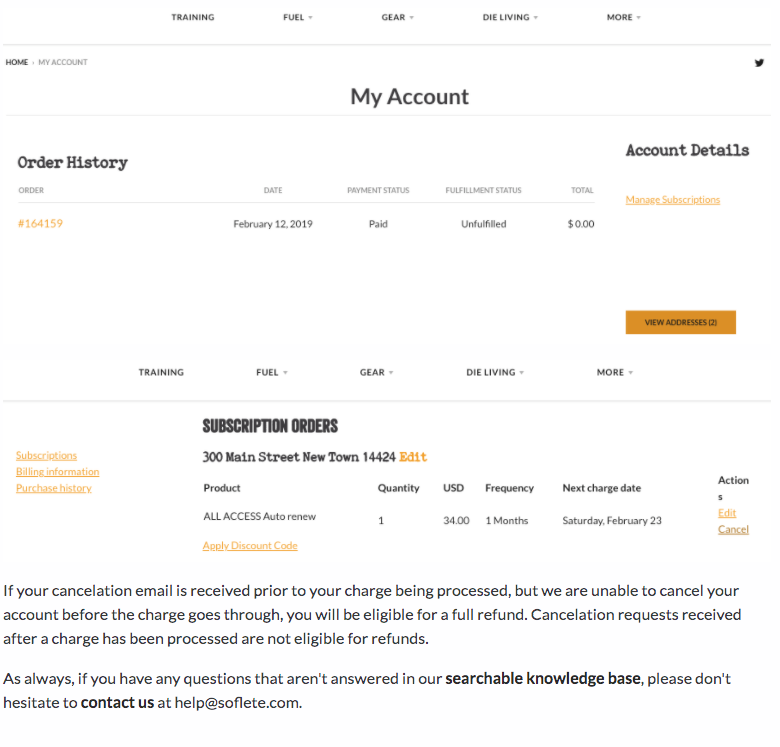 ---
---